Updates
---
If you've been following us for the past year, you may remember an old project of ours - the Zen Work Pod. Unfortunately, it never saw the light of day. We faced hurdles that proved too great to overcome and so the project was halted.
But we're not giving up! This year, we're rebooting the project as the Autonomous Pod. As part of the Autonomous Hardware Team, I'm super excited to be in charge of this project. I'm obsessed with building, particularly with wood and timber. In my spare time you'll find me in the woodwork room with my children.
But that's enough about me. Discover more about the Autonomous Pod below. I'd love to hear your thoughts!
Ye Olde Zen Work Pod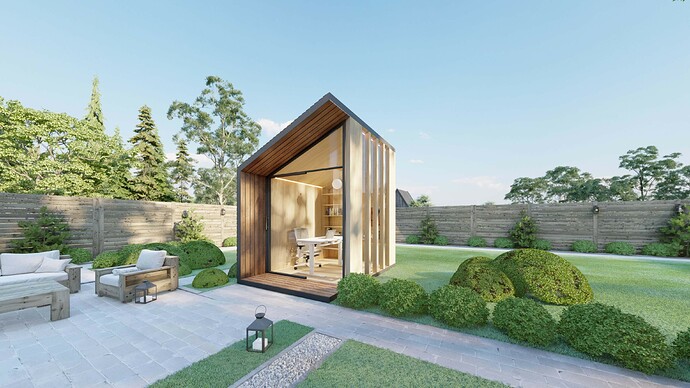 Here was how we envisioned it to be (notice: it's different now)
The problems
Transportation & Setup
While we advertised the whole pod to have fast delivery and setup within 2-4 days from purchase, it took a lot of work to get it on the truck, deliver to your place and set it up. It actually took a crew of 10 people and a week to actually assemble it. This was due to the material choices and its design.
The Design & Materials
It looked good, we agreed, but it was not practical at all. It took too much work and human resources just to get one done.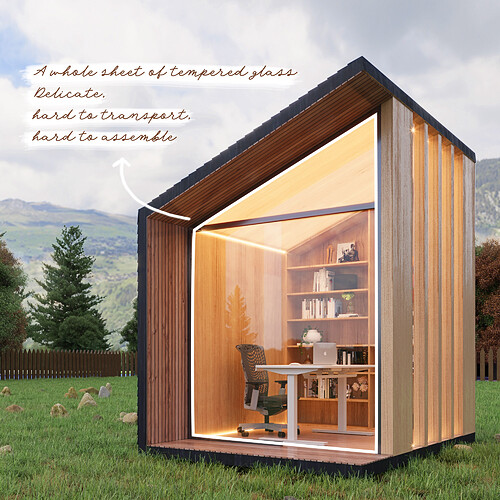 Based on the design, we made a whole sheet of tempered glass for the front, which needed extra care to handle because it was fragile, large, and heavy. The structure of the pods was made from steel, and they came in whole, too. There were also 4 layers to make up the walls. Needless to say, it was hectic.
The Scheme
Initially, we wanted to sell it to individual customers, they can have it in their backyard or some sort. But as you read above, the transportation needed a whole lot of effort, and it did not sound feasible to have a pod like this in your backyard for (assumingly) forever, and it could not be distributed widely if made this way. So we made changes.
The Autonomous Pod
Here are the new details of The ZenPod
Why is it useful?
Pandemic happens, everyone switches to working from home. However, not every person is familiar with the new working condition, you may face:
Distractions (noise, children, entertainment, etc.)
Unmatched productivity level
Inability to achieve work-life balance
The Autonomous Pod is created to solve these problems on a whole new level.
Easy 4-hour setup (New!)
Eliminating the heavy and complex structures, the ZenPod is designed into modules that can be set up or disassemble easily in a short amount of time.
Anywhere (New!)
Backyard, front yard, lakeside… you name it, we'll come and set it up for you.
Anytime (New!)
If you're traveling somewhere and you need a place to work (that's not an AirBnB), rent a Pod we will come set it up for you at your place. Once your stay ends, we'll handle the hard part.
Minimal Design
Keep things simple and stay focused. Monastically inspired design promotes a minimalist yet productive work lifestyle. All unnecessary details have been removed to keep every feature of the pod indispensable.
Open, yet private
The completely enclosed space gives you the privacy you need to focus at work. Minimal design aesthetic, tempered glass front that allows for open views, & high vaulted ceilings give a feeling of openness, providing mental clarity & the space to breathe.
Well-equipped
The pod comes completely furnished with everything you need to immediately start working more effectively.
Versions
We believe the points above already provide a clear view of how it works. However, the Pod comes in many versions with different features:
| Name | Description | Possible features |
| --- | --- | --- |
| Pod Core | The core line of the Autonomous Pod, users can customize it to their preference | Neccessities (power bars, lightings, etc.) |
| Pod Pro | Pod Core with more features | Pod Core + speakers, air conditioner, SmartLock |
| Pod Future | Pod Pro with automation and remote control ability | Pod Pro + application (control lighting, speakers, favorite playlists, auto-temperature, etc.) |
| Pod Grow | Decorated and equipped with kid-centered features, for kids | Autonomous Junior line |
| Pod Play | For gamers | Widescreen TV, speakers, sofa, etc. |
Owners
I may have written a whole wall of text above, but this is a really big project that needs the hands of many people.
What will happen next?
The first Pod Core is currently being produced by our factory. Once it's done, we'll have it gone through quality assurance, making further adjustments, producing necessary materials, etc. Please stay tuned for more updates on the timeline.
We actually haven't finalized a name for this project. Help us to think of some!
---
If you have any questions or suggestions, please click Reply and let us know. This still needs a lot of work, we'll try to keep you updated with the progress!