Hi everyone,
We're thrilled that the first version of Hybrid is here. Come check it out at https://hybrid.autonomous.ai/!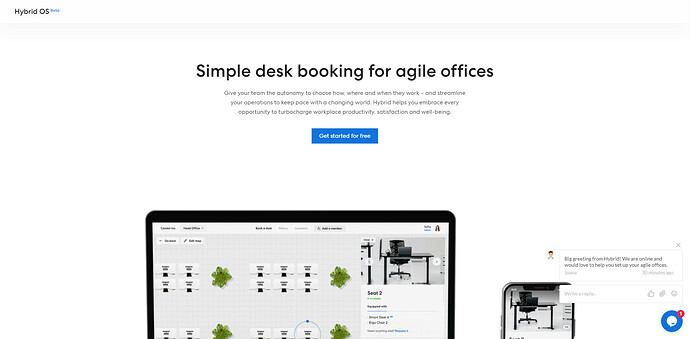 For more information about the Hybrid project, please visit this topic.
Project Status
Mar 29th - End of Early Adopters-exclusive feedback period (thanks to everyone for such valuable feedback)
We're now open for public feedback. Join away!
Apr 7th - Reach out to businesses for business version feedback
How-to
Sign up for an account. Make sure to choose
Test as admin first. You can test the invitation feature by inviting another email address of yours.
Log out of the account.
Login using the email you invited or using the same email address you used to log in as admin.
Test team member features.
Make sure you create an admin account first
More Information
Summary

What features will be focusing on to test?

As admin:

Creating workspace map: dragging, dropping objects
Invite team members
Book a workstation/meeting room as an admin
Email notification

As team member:

Book a workstation
Book a meeting room
Email notification

Who is the wanted population?

This is currently open for anyone interested in testing new Autonomous products for feedback of end-user about this idea and some early features. However, we're looking forward to seeing HR people and employees of companies joining us.

What will be done after this testing ends?

We collect feedback continuously. However, we will release a new app version every 2 weeks. I will post a mod notice for everyone to follow.

All feedback in a version will be collected and action items will be determined by the dev team. I will then publish a summary of all feedback plus the next steps in the process.
You can find all feedback and action items of all versions here.
What are the questions we're looking for answers?
Please also include in your feedback whether you log in as an admin or as a team member!
How do you feel about the system overall?
Would this work/help your business/company?
Which features are good/not good? What do we need to improve?
What features should be added to Hybrid?
---
FAQ
(to be updated)
---
If you have anything else you want to feedback, we'd love to hear (including the details of this post, if it needs more info). You can also tag @nktam , project lead, to ask more questions. Sound of your feedback below using the

button!