Hybrid: Fully-integrated & Hardware Solution for Businesses
(Click to expand) Project Background

Lots of companies are moving to Hybrid working model. To simplify the explanation of such, it allows a mix of onsite and remote employees. That means business must adapt with the change, in company culture, employees' well-being and the overall resource managing shift.

Autonomous Hybrid is the world's first fully integrated software & hardware solution that helps businesses implement a hybrid work model. Throughout the week, employees can choose to work from home for a few days and then a few other days in the office — in one seamless experience.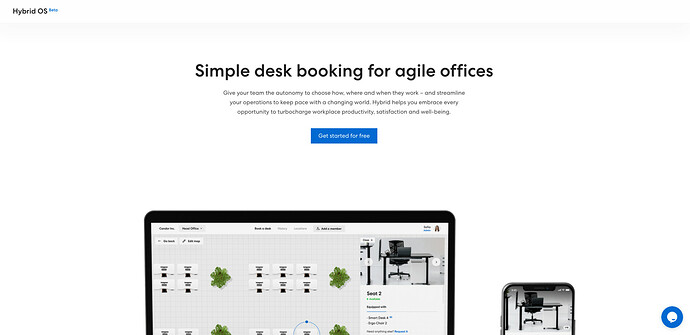 What is the offering? What exactly do we sell?
A SmartDesk (SmartDesk Hybrid)
Smart Meeting Room (with a built-in SmartLock)
A web platform (a) for employees to book a desk/meeting room and (b) for employers to manage all of their offices
A mobile application for employees to (a) check in and (b) book a desk/meeting room
(Click to expand) Detailed Hardware & Software Experience

Core Software Experience

Feature
Description
For who?
Why is it valuable?
Booking
Reserve a desk or a meeting room to get work done
Available on both web and mobile.
Employee
Give employees the flexibility and freedom to get work done wherever they feel most productive.
Check-in
Seamless check-in experience at a desk or a meeting room.
Mobile only.
Employee
Transition from home to the office (and vice versa) in one seamless experience. All devices (desks, photo frames, lighting, etc.) are automatically adjusted to the individual's preferences.
Office Design
Create multiple office layouts by dragging & dropping desks and meeting rooms.
Web only.
Employer
Help employer to set up and manage a flexible work environment. Keep track of the office availability.
Office Analytics
Monitor how your offices are being used.
Web only.
Employer
Save on real estate. Make sure all office spaces are used efficiently

Hardware Products

| Feature | Description | For who? | Why is it valuable? |
| --- | --- | --- | --- |
| SmartDesk Hybrid | Fully integrated with the Hybrid software. Automatically adjust to the employee's height preference. | Employee | A personalized and convenient experience for employees to get work done anywhere |
| Meeting Room | Fully integrated with the Hybrid software. Can only be unlocked by who booked the meeting room. | Employee | Ensure that the is no conflict between meetings that might waste commuting time. |
Product Roadmap
Visit Hybrid Product Roadmap topic.
For minor updates, feedback and release notes, please go to Hybrid Feedback, Action Items & Release Note
Testing & Feedback
Please go to Hybrid Testing & Feedback to sound off your feedback!
Knowledge Base
Hybrid Terminology - Quick guide to terms using in Hybrid - Updating
Roles in Hybrid - Explaining the 3 types of users in Hybrid, what they can do and VOTE for the next feature.
Instructions
---
Related Reads