User
Autonomous Hybrid has 3 types of user:
Admin: Admin is able to create, edit location, assign dedicated desks, see booking list, history, data dashboard, etc.
Location manager: Assigned by admin and is in charge of managing specific locations.
Member: Standard user of locations. Member is able to book, cancel workstation, meeting room, location on Hybrid.
For more info about what each type of user can do, please see Roles in Hybrid.
Space
Company: A collective group of all members in a company
Location: If a building has multiple floors, each floor should be assigned a Location
Map: A Location with assigned Objects
Physical Map: Arrangement of your floor plan in reality
Virtual Map: Digitalized version of your floor plan on Hybrid
Object
Wall: Space inside the connected walls is defined as a completed Location.
Workstation: Desks that can be defined as Dedicated Desk or Hot Desk that is available for booking.

Workstation tool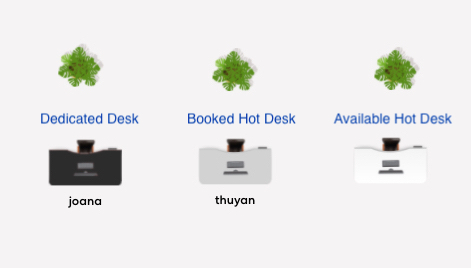 3 types of Workstation
Door: Doors can only be applied to Walls.
Window: Windows can only be applied to Walls.
Meeting Room: Small meeting room for 4-6 people. Can be booked.
Big Meeting Room: Big meeting room for 6-8 people. Can be booked.
Plant: Decoration object.
Workstation
Hot Desk: Workstation that is unoccupied by any person and can be booked using Hybrid. It can be a Hybrid Desk or a Normal Desk.
Dedicated Desk: Workstation that has been assigned to a person by Admin and is not available to book. It can be a Hybrid Desk or a Normal Desk.
Hybrid Desk: SmartDesk Hybrid developed by Autonomous with full control and experience using Hybrid web/mobile applications.
Normal Desk: Normal SmartDesk or desks that is not SmartDesk Hybrid.