From The Information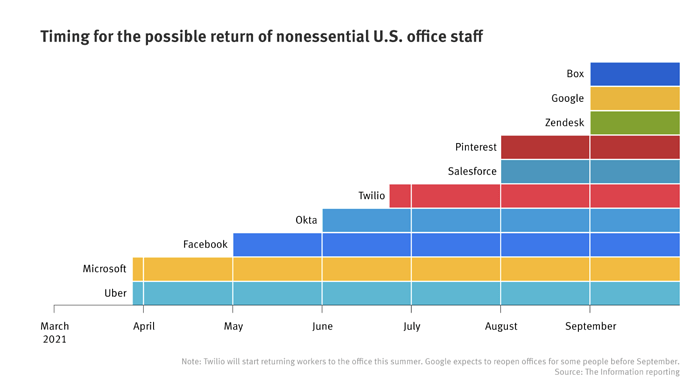 As vaccines roll out, tech companies are planning for their employees to be back at the office sooner than we anticipated. Most companies are looking forward to implementing a more flexible working style, as they realized their employees enjoyed aspects of working from home.
Most Days in Office. Emphasizes in-office collaboration while adjusting for new, virtual work routines: Apples, Netflix, Google, etc.
Hybrid. Mix of in-office and remote work; employees may have flexibility to choose their arrangement: Microsoft, Uber, Salesforce, Facebook, Adobe, Pinterest, Twilio, ServiceNow, Cisco, Snap, Zendesk, Okta, Box, Twitter, Square, Nvidia, Zoom Video, Zillow, etc.
Check out our Hybrid plan for a solution to switching to Hybrid working plan.
Remote First. Most staff won't need to work in an office, though they may be able to work or gather in offices: Shopify, Brex, Dropbox, Affirm, etc.
Fully Remote. Zero or minimal office space: Cameo, Airbnb, Amazon, etc.